Welcome to Issue #4 of my Ree-Writes newsletter.
Ree-flections
This issue comes to you from a fortnight of many unconnected things, but which interweave anyway to make the backdrop to my world. The things include:
Leaving my LittleOne alone with non-family caregivers for the first time ever – for a very short time, but the amount of bravery it required (from me!) was intense😁. Needless to say, LittleOne breezed through it💖
The remnants of something like my sixth cold in nine weeks.
Discovering that the ubiquitous tune included in most electronic piano toys, starting with my 1980s calculators, is Für Elise by Beethoven.
A lovely full moon and many, many beautiful sunrise and sunset skies soaked in rose, gold, lilac and pineapples.
And getting kicked out of my Twitter account for sharing a video of dawn skies, birdsong and silhouetted trees (because the Twitter bot decided it was x-rated); I describe this experience here, if you're interested.
I hope my words find you well in your world, and I hope you enjoy this issue.
---
Writing & Creativity Cool Finds
Sun, sand, sea and books – such an enticing image of an ideal holiday. But what I said it was an image of a job? A real-life job, not a imaginary one. Here's how to become a barefoot bookseller in the Maldives.
Imagine snapping street photos of strangers in the 1970s and 1980s and then, 40 years later, tracking them down to get them to recreate the photo. Daunting and touching and bittersweet. Talk about a lifetime of stories in each photo.
Winnie-the-Pooh lapsed into the public domain this year. But that doesn't mean all the incarnations of Winnie-the-Poohs are now up for creative play. It's actually mostly the opposite. This article breaks it down in a clear and helpful (and skimmable) way. Worth a read, if for no other reason than to wrap your head around the basics of copyright and copyright lapses.
Audio books have had a super-surge in popularity in the past few years, accelerated by the pandemic. Here's an interesting overview. Do you use audio books? I don't. Having said that, this year, for the first time ever, I've found my way to consuming podcasts (albeit with a heavy focus on writing and self-publishing). I never thought I would be a podcast person, but here we are. So audio books might be a mere few years away for me!
---
Something I created
It rained
Backstory: A little piece of microfiction that I created first for Twitter, and which I then created a pretty background for, to share again on Instagram. Sometimes a story doesn't need anything else. I love this just as it is. …Also, you may recognise the background image a little. It's heavily photoshopped here, but I also used part of it to illustrate my story, 'The dream which fell into the ocean', in Ree-Writes #2 – Oceans of Ideas. I also talk about the original artwork in the 'A Piece of Art I Love' section below.
---
A Book or Piece of Art I Love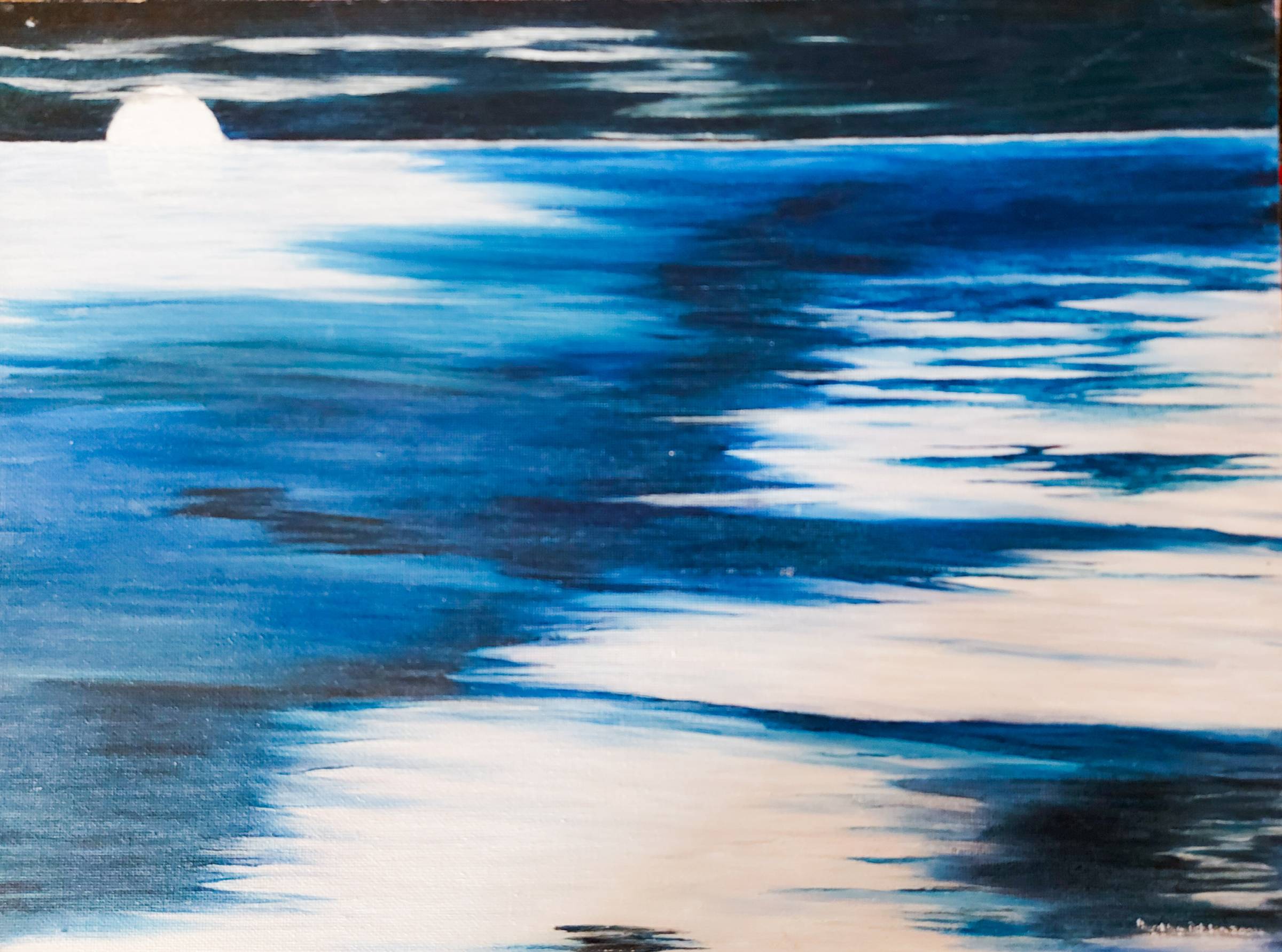 This is a painting by my mum, Rambha Dobson.
I'm its proud custodian, and it's been in pride of place in my office for a while now. I really like the magic imbued in the moonlight and in the stillness of the water.
It whispers to all those places within ourselves which sometimes ache for serenity, soft mystery and other-worldlinesses. In those places where the words don't dwell, but the moods and inspirations to find them, do 💙
---
Randomly Interesting Inspirations for Stories
Church Forests in Ethiopia. I'm sharing this one just because of the beauty in the words, 'church forests'. Also, this story has a combination of photos and video, where the text flows around the images, but sometimes, the images flow around the words. It has a bewildering effect of making your reading feel more immersive.
'Your favourite colour is probably blue'. Two things: 1) how did they know? and 2) why do I now feel not-special?
The world's second-largest pink diamond has been found. Whenever I see diamond news stories these days, I find myself taking an interest. No, no, not because of that tedious 'girl's best friend' angle. But because I wrote a short story called 'The Diamond Taster' (in my Five Senses anthology), and I'll freely 'fess up that I'm proud of it. (How proud? Oh, so very proud.) Diamond news stories nowadays make me wonder what The Diamond Taster would have to say about those diamonds' back stories.
---
Thank you
Du fond du coeur, thanks for reading x
If you landed here by accident or design, and you'd like to find out more about my Ree-Writes newsletter, head this way.
You can also find me online on my Dodo Au Gogo blog | Twitter | Instagram.