Welcome to Issue #7 of my Ree-Writes newsletter.
Ree-flections
I want a fountain pen. And it's all this newsletter's fault.
You see, I decided it was well overdue for Neil Gaiman to make an(other) appearance in the newsletter, so I found the podcast link I've included below. Among many other gems, Gaiman talks about how he uses fountain pens to write his first drafts. So of course, now I want a fountain pen too.
Because I know it will quadruple my writing productivity *insert guffaws here*
No, the more honest truth is that it sounds like such a wonderful ritual for entering into your own dream world. As though you're holding a magic wand. Drawing aside a secret veil. Or wielding a talisman. As dusk-coloured inks flow onto the page beneath your hand.
It makes creative writing feel like the delicious treat I keep forgetting it is.
I hope my words find you well in your world, and I hope you enjoy this issue.
---
Writing & Creativity Cool Finds
I wanted to share something Neil-Gaiman-related in this issue. So I found his podcast chat with Tim Ferris. Podcast and transcript all included in the link. Enjoy – fountain pens and all!
Here are some photographs from some eerie places you'll never go.
Here is an intriguing set of 12 tips for writing flash fiction (I'm not sure if there's an official definition of flash fiction, but in this piece, it's less than 1000 words).
Have you ever been curious about the music licensing side of things when it comes to making YouTube/TikTok videos? Not that I'm an aspiring video-maker by any stretch, but I have vaguely wondered about how (especially indie) musicians either license or protect their creations on video-sharing platforms. Apparently there are developments on the YouTube front meant to make things easier.
---
Something I created
Launching the moonbow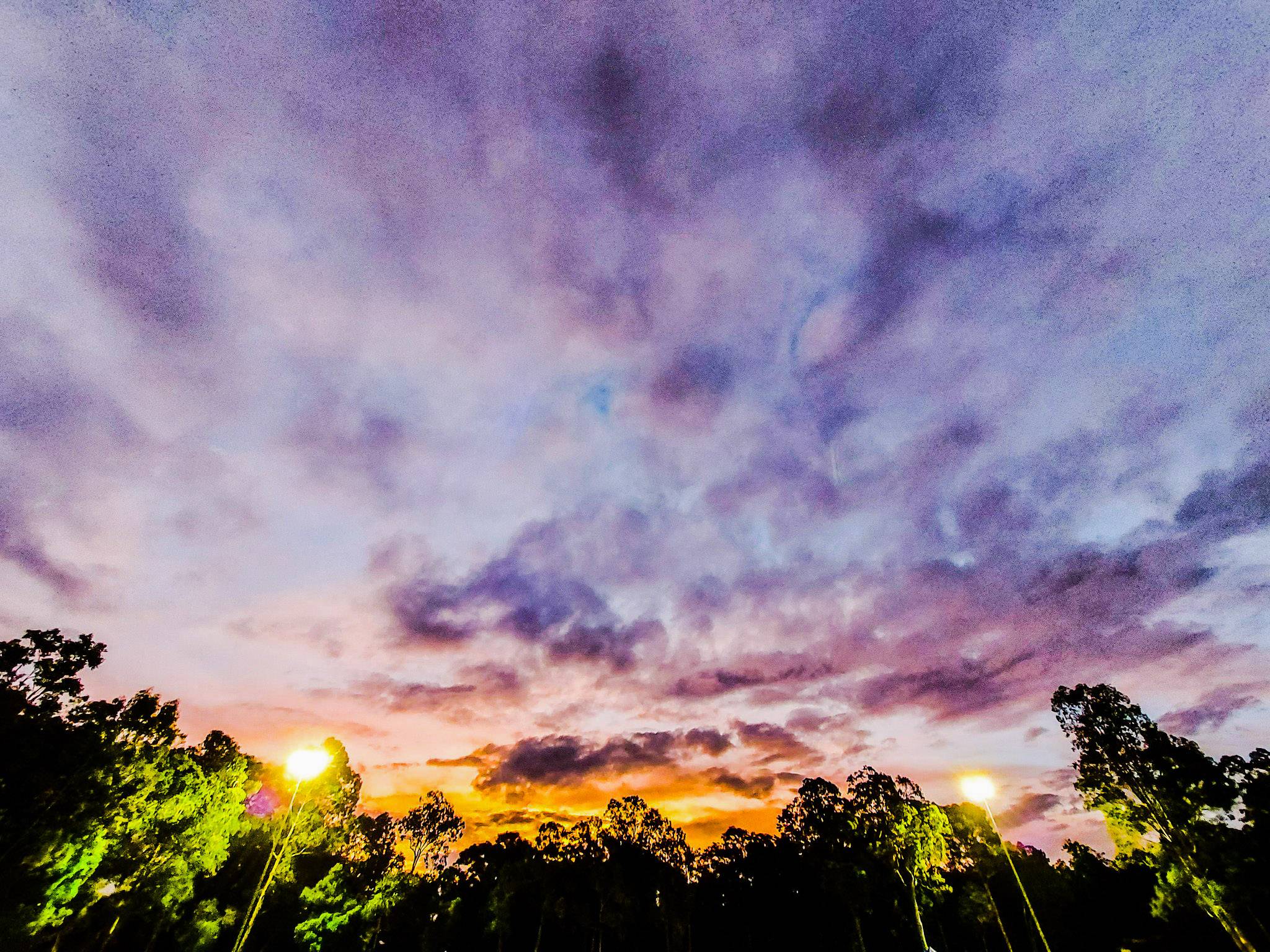 The Pirates had chosen a rather cloudy dusk to launch their new moonbow ship into the sky.
Because, as everyone knows, dusk is the most auspicious time to launch moonbow ships. Clouds are not quite as welcome, but the experts are still divided as to whether they are wholly unwelcome.
There were mutterings among the crew, of course, but they were rather prone to pre-flight grumbles anyway. Even when conditions were perfect.
The two ship kookaburras perched on their rigging, and stretched their wings. One started to laugh, then the other. Then they both threw their heads up and laughed gleefully into the sky, stirring the winds of anticipation further.
Once the moonbow ship was up in the air, sailing through the surprisingly dazzling colours in the clouds and feeling the last of the sunlight kissing their faces, even the most pessimistic of the crew was quickly as happy as could be, merrily singing free.
Backstory: I took this photo at my LittleOne's Friday evening football training earlier this year. Afterwards, I tweeted some words which I felt suited the magical sky vibe, while still explaining the presence of the pitch lights. I've just inserted in kookaburras into this version because there were a couple of kookies who were a regular presence near the football pitch, and it's a nice way to remember them.
---
A Book or Piece of Art I Love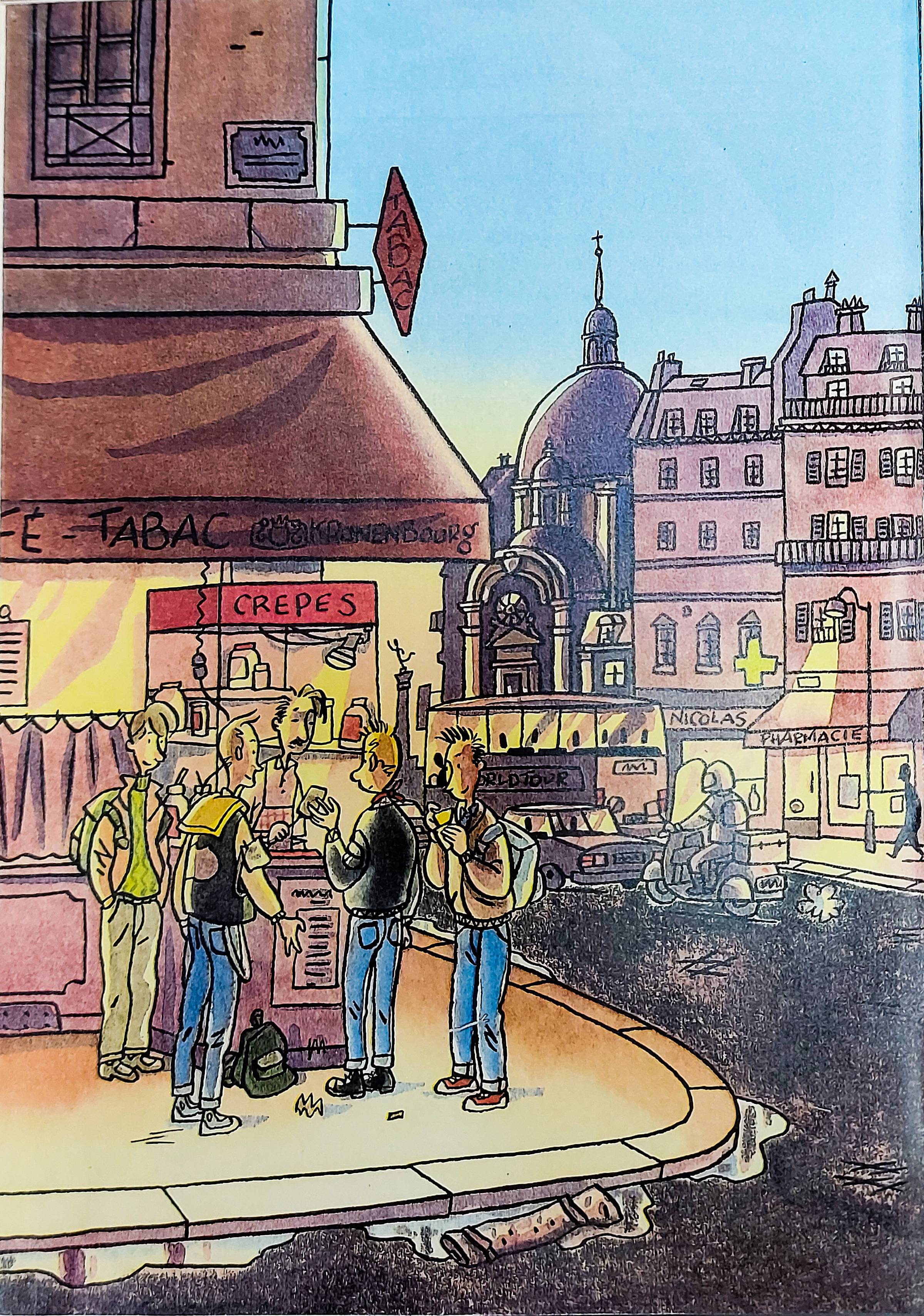 A long time ago, in the state of Western Australia, I came first in a French language exam/competition.
(I'll offset the feeling of humblebrag by noting that I bombed badly the following year to finish a lousy 13th, then got my act together again in my final year to finish third.)
The prize for first was a 12 month subscription to a French literary-ish magazine called Je Bouquine ("I'm reading") aimed at a teenage readership.
Each Je Bouquine issue was glossy and in colour. It was light on the pop culture side of things (you know, the sort of content you think of when the words 'magazine' and 'teenager' together). Instead, it featured one new short story with custom illustrations, with an illustration from the feature story also headlining the cover.
The issues always included a blurb on the story authors and illustrators. They also had an edited excerpt of another story, often in graphic novel format. There were lots of other magazine-style short article snippets and bits and bobs. (I can't think of an English equivalent for this type of magazine.)
My Fave Image for this issue is an illustration from one of my favourite stories from that whole year of Je Bouquines.
The story was "Devenez Populaire En 5 Lecons" (How to Become Popular in 5 Lessons) by Marie-Aude Murail and the illustrations were by a French duo, Dupuy-Berberian.
I'm not sure if I loved the story more because of the illustrations or because of the story itself.
In brief, we follow Serge, a quieter boy in a band of 4 friends, as he tries to apply super-popular-friend Maxime's 5 lessons on how to become popular, while also trying to figure out how he can ask out the girl he likes, Hayat, to the movies. In the end, Serge learns popularity is less important than real friendship, that you can be super-popular without anyone liking you very much, and that being yourself is the best way to talk to the girl you like.
This illustration is at the end of the story, when Serge (in the red sneakers) has made some important realisations, when the boys have resolved their differences and they leave school to go and buy some crepes. I love the street scene, the urban atmosphere on dusk, the bustling end-of-the-work-day backdrop, the tired crepe-maker, the very French-feeling tobacco and pharmacy street signs, and the tell-tale signs of recent rain.
I've carried this photocopy of this illustration around with me for years. I still love it.
---
Randomly Interesting Inspirations for Stories
If you ever wanted to get inside the mind of a whale, here you go. A lovely, long, immersive read.
Imagine being invited to dress as a dinosaur in order to visit a museum. I love this story so very much!
To quote my LittleOne, "you have got to see this!" A Victorian-era music streaming device. This is head-shakingly surreal. Especially to know it was a real thing. It tickles so many delicious 'what if' bones…
---
Thank you
Du fond du coeur, thanks for reading x
If you landed here by accident or design, and you'd like to find out more about my Ree-Writes newsletter, head this way.
You can also find me online on my Dodo Au Gogo blog | Twitter | Instagram.