Ree-flections
Oh it's been quite the fortnight, here in Ree-Writes Land for Ree-Writes #9.
In the last issue, I mentioned a night of little sleep because my LittleOne had picked up a bug. Well, said bug worked its way through the family, taking us down one by one, with its various combination of goopy noses, hacking coughs and fevers. We're through the worse (touch wood), and now getting rid of the remnants. Hopefully the exhaustion will go away soon too.
Have a look at the 'Something I created' section (which, for this issue is called, 'Something I co-created') to see what we were able to come up with, once we started getting better.
I hope my words find you well in your world, and I hope you enjoy this issue.
---
Writing & Creativity Cool Finds
Check out this completely doodled house! To quote my fave cartoon character, Bluey, this is "for real life!" It's not CGI or anything other kind of pretend. It's real. Jaw-droppingly real.
Following on the heels of the crazy doodle house, here's a piece on the importance of play in creative writing.
This one feels hard to believe, but stranger things have happened: a copyright error is (partially) responsible for the rise of the modern zombie.
A photographer went to Iceland and took 'haiku photos'. Even before I read the article, the idea of haiku photography appealed enormously. After I read the article, I'm still not sure what is and isn't a haiku photo. But it's an extra way of looking at photos and the world around me, and it's going to make for some good photography fun.
---
Something I co-created
Welcome to PonderBananeMangoSweet Street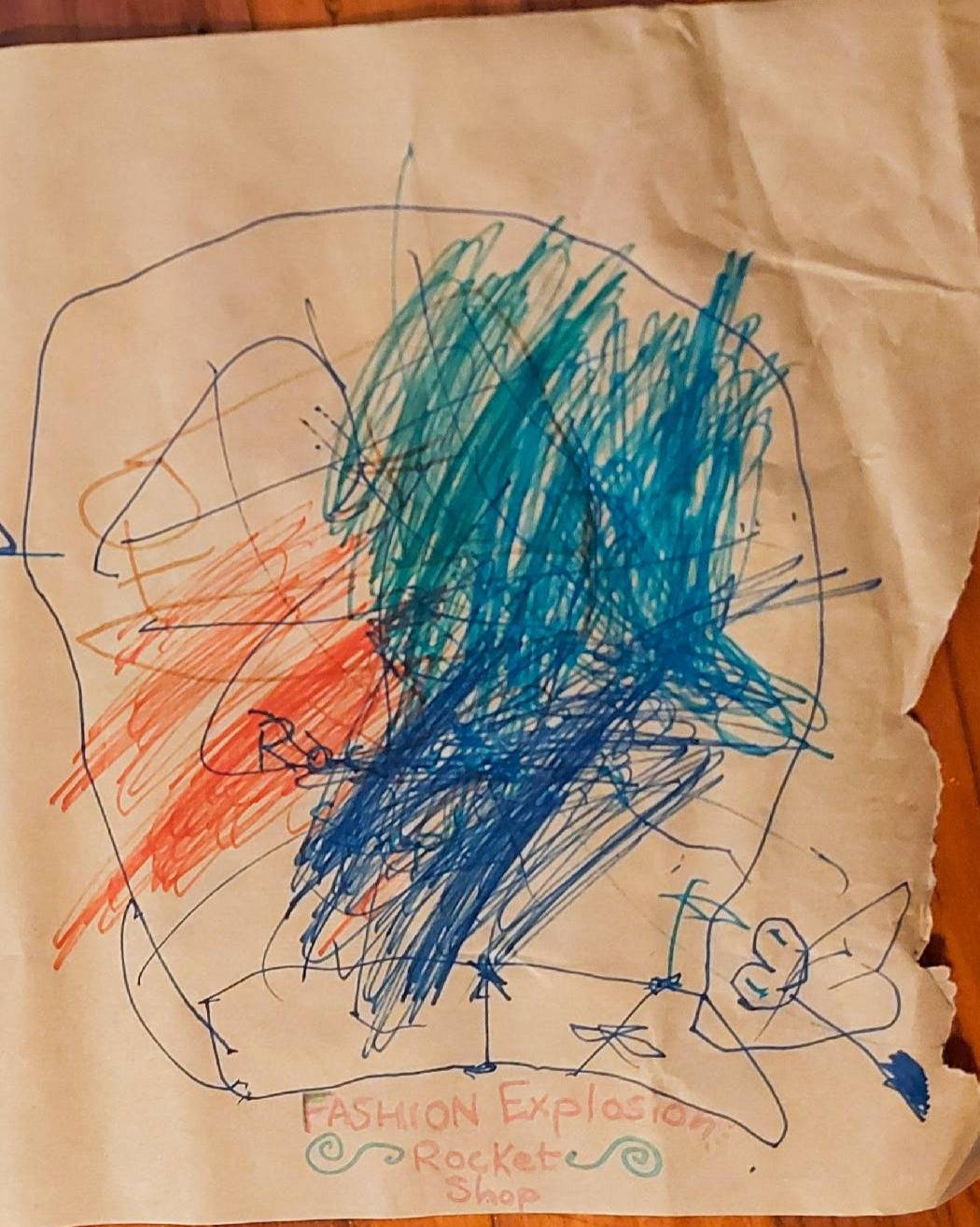 I'd like to invite you to take a walk along PonderBananeMangoSweet Street, a drawing collaboration with my LittleOne.
There is some genius at work in this drawing (not mine). You see, this is the Fashion Explosion Rocket shop – for fashions you wear into space.
Imagination at its best! I have much to learn.
---
A Book or Piece of Art I Love
The View from the Cheap Seats: Selected Non-Fiction by Neil Gaiman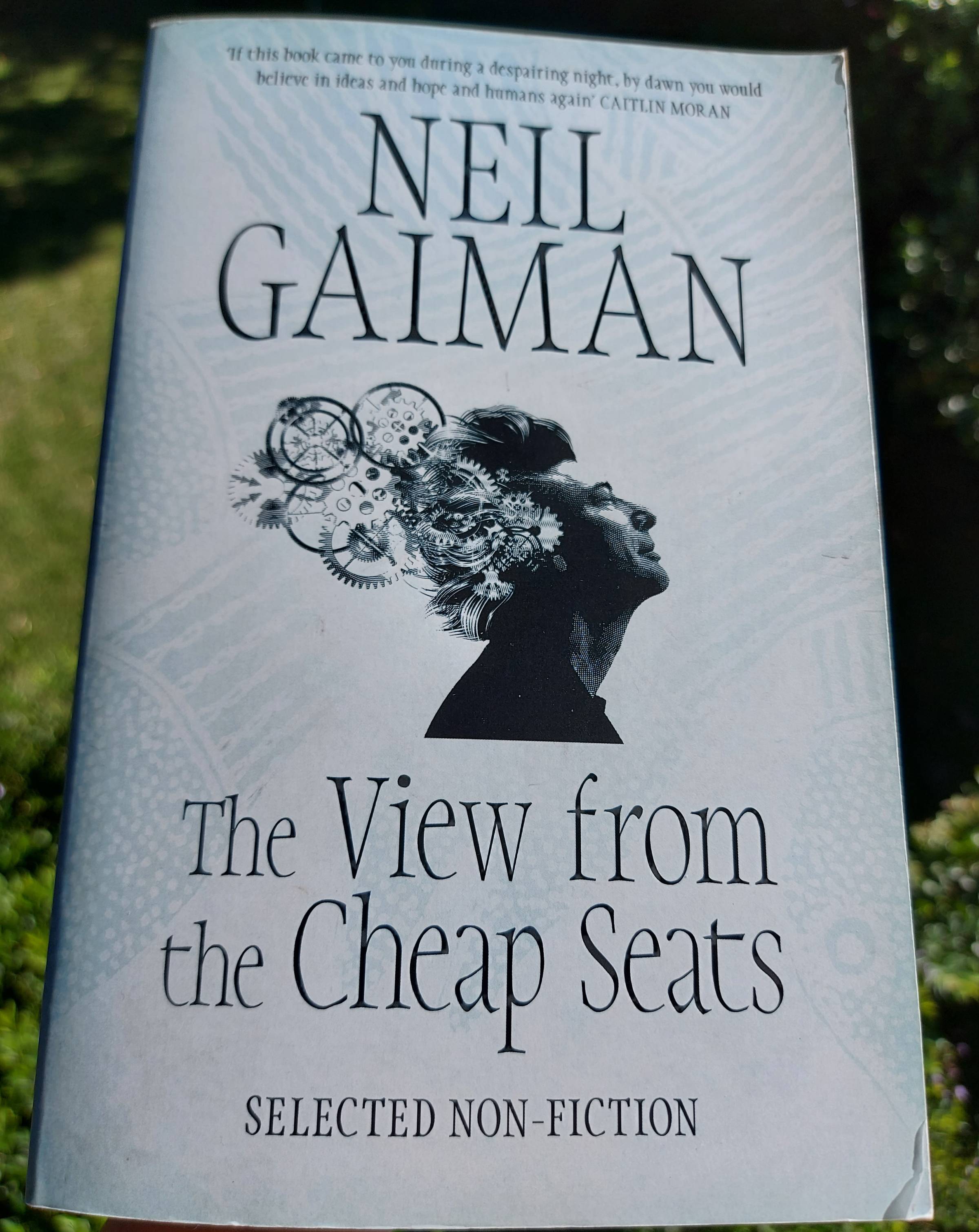 The View from the Cheap Seats is a collection which gathers together Gaiman's introductions, forewords, speeches and articles. They are Gaiman's thoughts and ideas – about writing, words, daydreams, fiction and the importance of their place in the world.
I dip into the book a lot, often opening a page at random, and falling into the words. I have multiple pages bookmarked with my some of my favourite bits.
The book often brings me to the point of tears because Gaiman just seems to just cut through straight to the heart-chords, where his words sit, play, dance and echo.
I find it endlessly inspiring. How inspiring? Thiiiiis inspiring: here's a blogpost about how The View from the Cheap Seats was instrumental in helping me find the words for my favourite story, 'The Diamond Taster', in my Falling into the Five Senses anthology.
---
Randomly Interesting Inspirations for Stories
Have you ever wondered about underground cities? Let alone underground cities large enough to house 20,000 people? Well, here's one – and it was only rediscovered in 1963.
There's apparently a popular perception of koalas as not being clever. I'm not going to pretend to understand why or how this came about, but here's a piece which explains why koalas are plenty smart, thanks.
One of those dream jobs: researching pirates and sorting out the merry from the myths (the myth-takes) and the mundane.
---
Thank you
Du fond du coeur, thanks for reading x
If you landed here by accident or design, and you'd like to find out more about my Ree-Writes newsletter, head this way.
You can also find me online on my Dodo Au Gogo blog | Twitter | Instagram | my website.