Ree-flections
Here in Ree-Writes #11 in the southern hemisphere, we're on the edge of summer. Here in Brisbane, some days are cloaked in relentless heat and humidity with warm nights, and other days are crisp and cool. In the Blue Mountains where we used to live, they're still talking heaters and possible snows, and I don't miss that at all.
The Ree-Writes household is going through its umpteenth cold (I've lost count), my beloved Indi-pup recently had her 11th birthday, I was delighted to see the local plover birds had been successful in having 2 babies, and the sunset lights have been marvellous. So the world glides on – big and small alike, with much to be grateful for.
This issue is a couple of days late. I'd like to say it's because I've been burning through NaNoWriMo, but the truth is that I've not been waking at my usual 5am lately – and my writing and creative-wandering windows have been drastically curtailed as a result. But I managed to play with the tiny story I've shared with you this issue, so I'm going with the approach of all words written are good words.
I hope my words find you well in your world, and I hope you enjoy this issue.
---
Writing & Creativity Cool Finds
Although the very idea of it makes me go into nervous twitches, this is an interesting piece on how not capitalising words helped a writer's words flow. It seems to be in the same vein as the technique of using comic sans to increase productivity. I haven't tried these approaches – yet, but I'm curious enough to try them at some point. If you've ever experimented, do drop me a line and let me know your thoughts.
If you're feeling creatively worn down after a long year of cobbling, crafting and carving words, here is some always-useful advice from Ray Bradbury on how to nurture your muse.
I have no intention of going anywhere near TikTok, the video-sharing platform with over 1 billion users – mainly because I prefer consuming words to videos. But I've been interested to see the development of BookTok – the TikTok community of book lovers talking books and authors – and how this word of mouth has been driving book sales, spotlighting authors and their backlists, and getting its own listings in bookshops. Now, there are also growing argy-bargies within BookTok about book influencers, paid promotions and the authenticity of reviews. On the flip side, this interview with a digital marketing campaigner who has used TikTok successfully (virally) is an interesting read about marketing books on TikTok. And now, TikTok is capitalising on its communities and is moving into ecommerce and selling books directly.
In a very different world, have a look at the Rock Garden of Chandigarh in India (start at the 50-minute mark). I'd never heard of it before – it's a fascinating story of a place of art built illegally and entirely from waste materials. It was started in the 1960s and built in secret for more than ten years – and although initially threatened with demolition, the creator Nek Chand was instead given a salary and carte blanche to expand his artistic creations to an incredible 30 acres.
---
Something I created
The Photographer, the Fairy and the Frog
The photographer thought he'd captured an unusual leaf silhouetted against the sparkling stream water.
He didn't realise was that it was a frog – curled in mid-leap, twisting and turning to hide a fairy from the camera viewfinder.
The fairy looked up with a startled gasp as she realised what was happening and quickly disappeared in a flutter of sun sparkles.
She reappeared behind the green safety of the bushes and dropped her face into her palms and groaned. She'd been so entranced by the water in its summer sun, her attention had slipped. Badly.
She was now going to have to pay the frog in days and days of slug-bread and spider-cakes, per the long-standing arrangement between the river fairies and frogs. And he was known to be such a grumpy frog too! What bad luck!
The frog landed heavily in a particularly putrid muddy patch at the water's edge. He got to his feet and looked down at the mud spattering his whole being, and scowled ferociously. The other nearby river creatures, watching the scene unfold in a breathless tableau, snapped back into life and edged carefully away from the frog. No-one wanted to get in the way of frog fireworks.
The photographer admired his photo of the river glittering in the sun and absently rubbed his hand against the weird frisson on the back of his neck. Then he got to his feet and kept walking.
Backstory: Based on an old Twitter microfic written around the time Twitter expanded its character count from 140 to 280. I know this because I took advantage of the new extra limit to re-share an expanded version of the story. I expanded the story further last week and shared it on Mastodon, a social media platform that isn't Twitter, while Twitter lurches itself in directions unknown. The illustration is one I created with the help of an AI image creator, Dall-e 2; I entered my descriptive prompt and it generated a few variations. I chose one and played with it in my Adobe Photoshop Express app.
---
A Book or Piece of Art I Love
When ree-visiting my chosen book for this section, LittleOne was with me, and asked me no less than three times – each with rising notes of scepticism and incredulity – if I really had tears in my eyes, for real life.
I had to say yes all three times.
The book, Are You An Echo? The Lost Poetry of Misuzu Kaneko, always moves me to tears.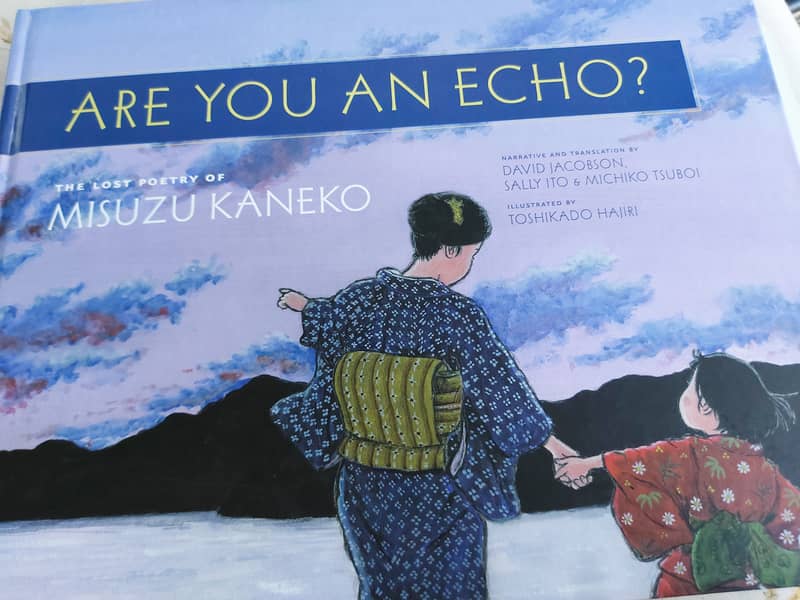 Misuzu Kaneko's words are simple, beautiful and moving. Her life story is incredibly unjust and sad. She came so close to being forgotten forever.
Are You An Echo? is aimed at a younger audience, sensitively sharing Misuzu Kaneko's life story – how she started writing, her tragic end and how her poems were re-discovered and returned to prominence in Japan. The book shares several of her poems, alongside exquisite illustrations.
Her story is one where, as The Marginalian puts it, "the tragic and the transcendent can co-exist". It is very worth clicking the link and reading some more about a beautiful soul worthy of being remembered.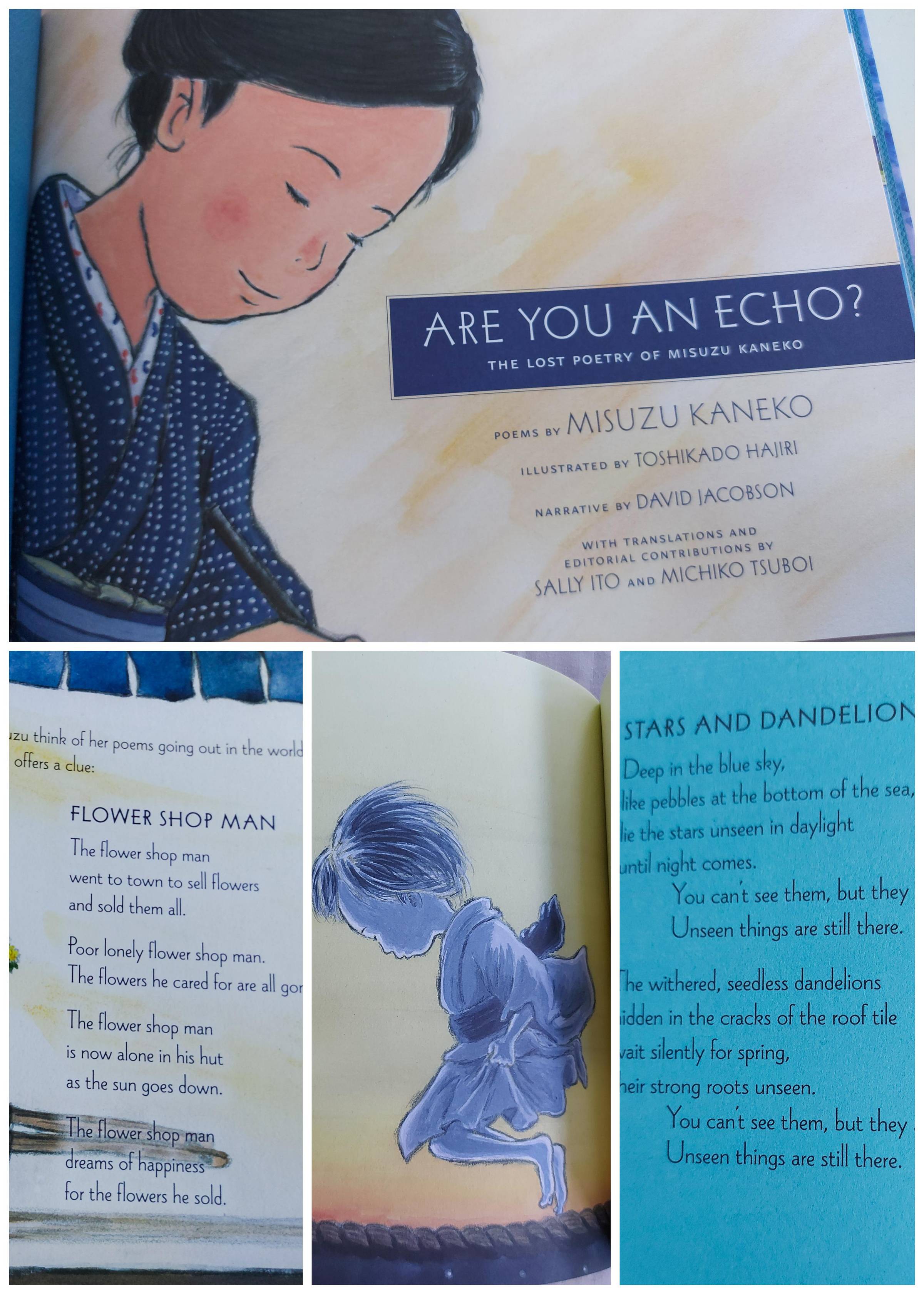 ---
Randomly Interesting Inspirations for Stories
If you're anything like me, you'll read the magic of the words 'lake stars' and you'll be clicking on the link without further ado. Here is the way to an icy appreciation for the art of lake stars.
I'm not a fan of the sorts of movies where a group of happy-go-lucky young people go off into the wilderness and then Bad Things Happen and no-one makes it out alive. But this is one such true life story which happened in 1959, cold-war Russia. It is a sinister, compelling long read and best accompanied by a hot cup of tea.
And finally, here's a glimpse into a world far away: the Bajau freedivers of South-East Asia.
---
Thank you
Du fond du coeur, thanks for reading x
If you landed here by accident or design, and you'd like to find out more about my Ree-Writes newsletter, head this way.
You can also find me online on my Dodo Au Gogo blog | Twitter | Instagram | Mastodon | my website.