Ree-flections
Happy New Year and welcome to Ree-Writes #14! I hope you've enjoyed a lovely start to the new year, with rejuvenated energies, good words and inspirations a-plenty.
I'm at the end of my holiday break, so am (rustily) gearing up to return to the day job. But regardless of my return to the wider world and all its myriad demands, this year, I'm hoping to get into more flow with my words and general creativity – in whatever forms they take. A simple, not-quite ree-solution that I have heart-hopes I can stick to.
I hope my words find you well in your world, and I hope you enjoy this issue.
---
Writing and Creativity Finds
If you find yourself wallowing in that special kind of post-Christmas guilt tied to the new, increased size of your To Be Read (TBR) pile of books, here's a piece about the Japanese concept of 'tsundoku' – a way of valuing learnings as yet unacquired. Just what we all need!
Someone used AI (artificial intelligence tools – the recently-released ChatGPT for generating the text and Midjourney for generating the images) to create a children's book over a weekend. Yes, that's right. A single weekend. Here's an article which discusses a lot of the issues at play. And here's a complementary overview on the ethics of AI, copyright and plagiarism .
I think this one is in the middle of going viral. Writer Julian Gough, who wrote 'the End Poem' at the end of Minecraft (one of the most successful games of all time, now owned by Microsoft), still retains his copyright to the End Poem and has just placed it in the public domain, under a Creative Commons Licence. Here's his full story .
Anyone fancy a handbag, wallet or pencil case featuring book covers and pages? Here you go . (Disclaimer: I've not succumbed to any of these – yet!)
---
Something I created
The Cat of Moonlight and Shadows
Backstory: My first story idea of the new year.
---
A Book or Piece of Art I Love
The Boy, the Mole, the Fox and the Horse: The Animated Story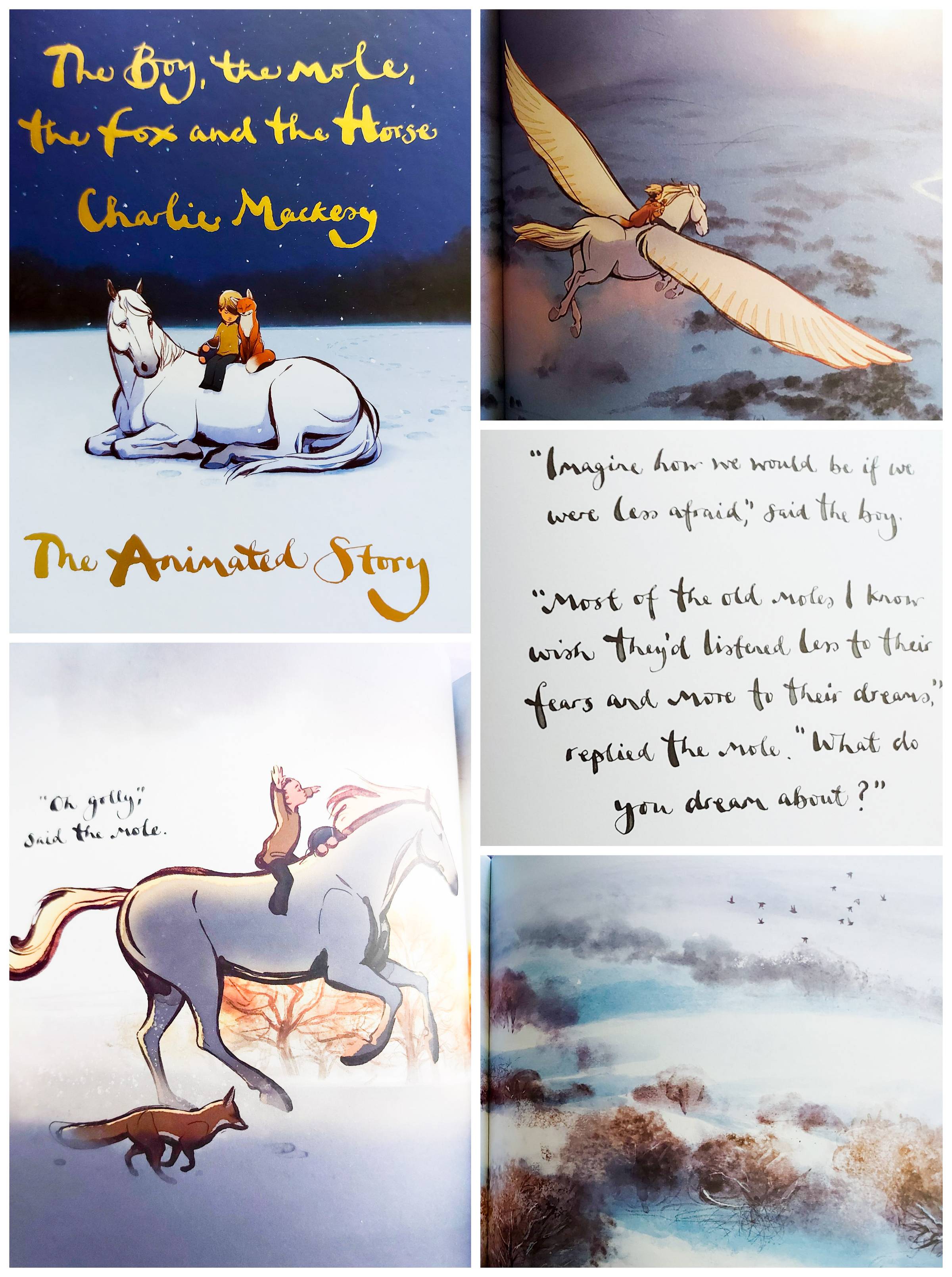 This book was first a series of social media posts that went viral, a book, an animated movie, and then, a book incorporating paintings from the animated movie. You can read a bit more about its journey here .
I discovered it in its most recent incarnation – the book which incorporates stills from the animated movie. It was my special Christmas present request, and I'm so glad Santa heard me.
My copy is a beautiful hardcover which retells the animated movie version in glossy colour pages, and with words in Mackesy's fountain pen text.
The story is about a lost boy who meets the Mole, the Fox and then the Horse, and together, they learn about the things that make life important and special. The images are exquisite and together with the words, they make the heart soar.
I think the animated movie premiered on Christmas eve, 2022. By the 27th or 28th Dec, when I finally got to browse the book, pirated copies of the movie were already on YouTube. I was tempted but because pirated copies go against the very spirit of the story, I didn't click through. I will hope to see the official version one day – and will make sure I have tissues to hand.
Because heart-felt stories like this invariably come with tears for me (yes, happy tears, LittleOne, happy tears).
---
Random Interests and Inspirations for Stories
I do like this story. It seems that bees like to play . Not that I needed another reason to anthropomorphise all the animals around me, but I'll take it!
Ever wondered what it might be like to live in a time when pirates were running amok – where you aren't one of the pirates? Find out more about the islanders who dealt with constant waves of pirates by making their island look uninhabited.
This sounds like an excellent message to start a new year? It's good to feel awestruck .
---
Thank you
Du fond du coeur, thanks for reading x
Find me online: Dodo Au Gogo blog | Twitter | Instagram | Mastodon | my website .
To receive your own copy of my Ree-Writes newsletter, click here.