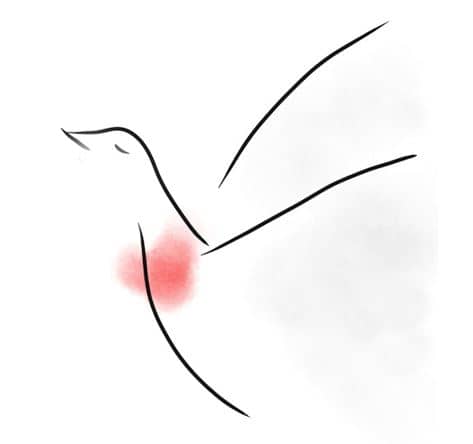 The Creator sat before a large canvas of snow-white and began to draw the world into being.
Blue breath was exhaled gently into the sky, which unfurled itself eagerly into its new home, deepening and gladdening and softening and whispering – arching through into all the different tones of blue.
The Creator paused and then blew out white breath, which coiled and gathered into many clouds of white, pearl and grey, large and small. Some of the breath settled slowly to become mist, and explore the world below.
Two teardrops followed. They sank beneath the snow to become a little river, held fast in winter's hold, thoughts of running, restless and eager beginning to stir in its centre.
A little smile of pleasure became a beam of sunlight to play through the mist and trip over the snow; to explore and kiss every inch of the world, over and over.
Steadfast hope was feathered onto the trees on the horizon, sturdy on the ground, green, patient, slow and enduring. Welcoming the sun's touch and whispering secrets to the mist to carry to the sky.
And finally, a little drop from the heart, an inky-red, thrilling touch of passion and wonder. It dropped onto the chest of a bird crafted of sticks and snow; a messenger of fragility, strength and life.
The bird awoke; it sat up and sang, waking the snow world into being.
---
Backstory: I wrote 'The Creator' many years ago when I had a writing game called 200-Word Tuesdays, which I hosted via Twitter and a dedicated blog. Two themes each month to inspire 200-word stories which I posted on Tuesdays. I ran it for a year (2015, I think?) and then passed on the baton. I've shared this story in my newsletter, Ree-Writes #1, also posted here at reeimaginedworlds.com.