Welcome to Issue #6 of my Ree-Writes newsletter.
Ree-flections
I'm writing this at 4.30am on Friday, 16 September 2022, the day this newsletter will go out into the world. My LittleOne woke me just before 4am with a demand to go to the lounge room. By the time I had heaved myself up and staggered in pursuit, LittleOne was sound asleep on the couch.
So here I sit, wrapped in a blanket, with a cup of unsweetened tea. The darkness is lit up by my screen and by the gentler orange glow of a salt crystal lamp.
We've had several bursts of heavy rain, three flashes of lightning, and some low, long, mostly-soft rumbles of thunder which have awoken my Indi-dog. Indi is now sitting restlessly next to me, her triangular ears tilted at their unhappy-at-storms angle, asking for head cuddles and reassurance.
Every time the rain stills, the birds start to call defiantly to the dawn – in chirps, soft whistles, coos and calls, and in the irrepressibly exultant laughs of the kookaburras. I hope the dawn hears them and replies soon.
I hope my words find you well in your world, and I hope you enjoy this issue.
---
Writing & Creativity Cool Finds
Do you need some ideas on re-booting your creativity? Maybe there's something new here to add to your own list.
I don't go searching for them, but if I find them, I read them avidly – articles about how mothers (especially with younger kids or babies) squirrel away time and a place to write. I find them somewhere between inspirational and tiring.
What do you think of art created (generated?) via artificial intelligence (AI)? An artist recently won first prize in a competition using an AI platform, and there was an immediate backlash. Is AI a tool or a kind of cheating? (The minute I decided to share this article, another one on AI art popped up that's also worth a read.
And my last cool find of the fortnight, have a look at how unusually pretty flowers look under UV light.
---
Something I created
Life line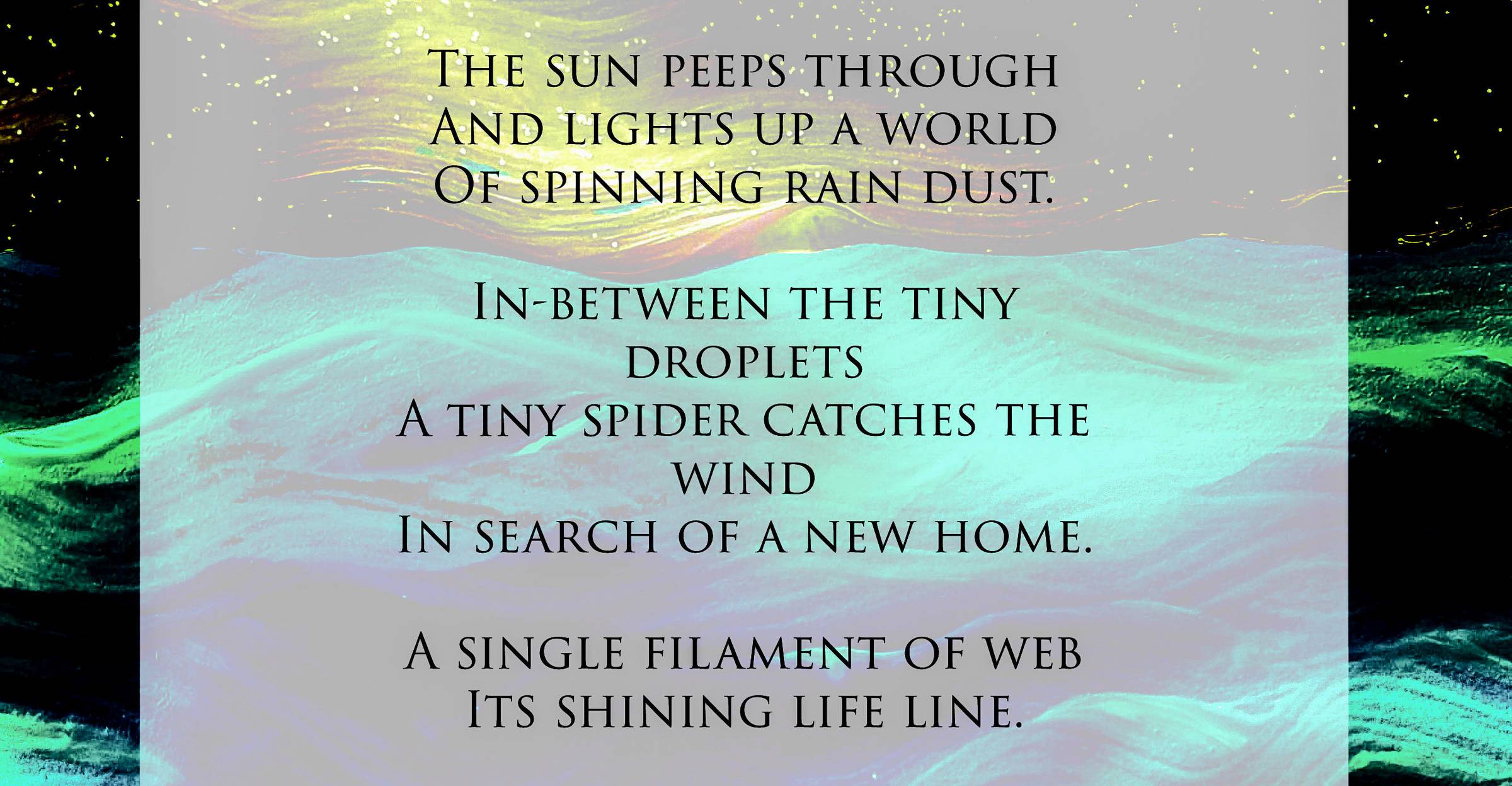 Backstory: This is a little micropoem that I tweeted earlier this year, which captured what I could see outside my home office window. The background image is based on something I splashed out while trying to use up the leftover paints after a painting session with my LittleOne. If I like what I painted, I take a photo and play with it in photoshop until it becomes something I find moody or evocative or ethereal. I've written on my Dodo Au Gogo blog about another painting born out of leftover paint and finished in photoshop.
---
A Book or Piece of Art I Love
Show Your Work! by Austin Kleon is what I think of as an artist manifesto book. It's a small, square book that you can easily pack into your bag and then start reading wherever the page falls open. There are short essays interspersed with Kleon's characteristic visual art pieces.
The key takeaway is: Like the title says, if you're an aspiring creative, share your work. Put it out there into the world and then make more.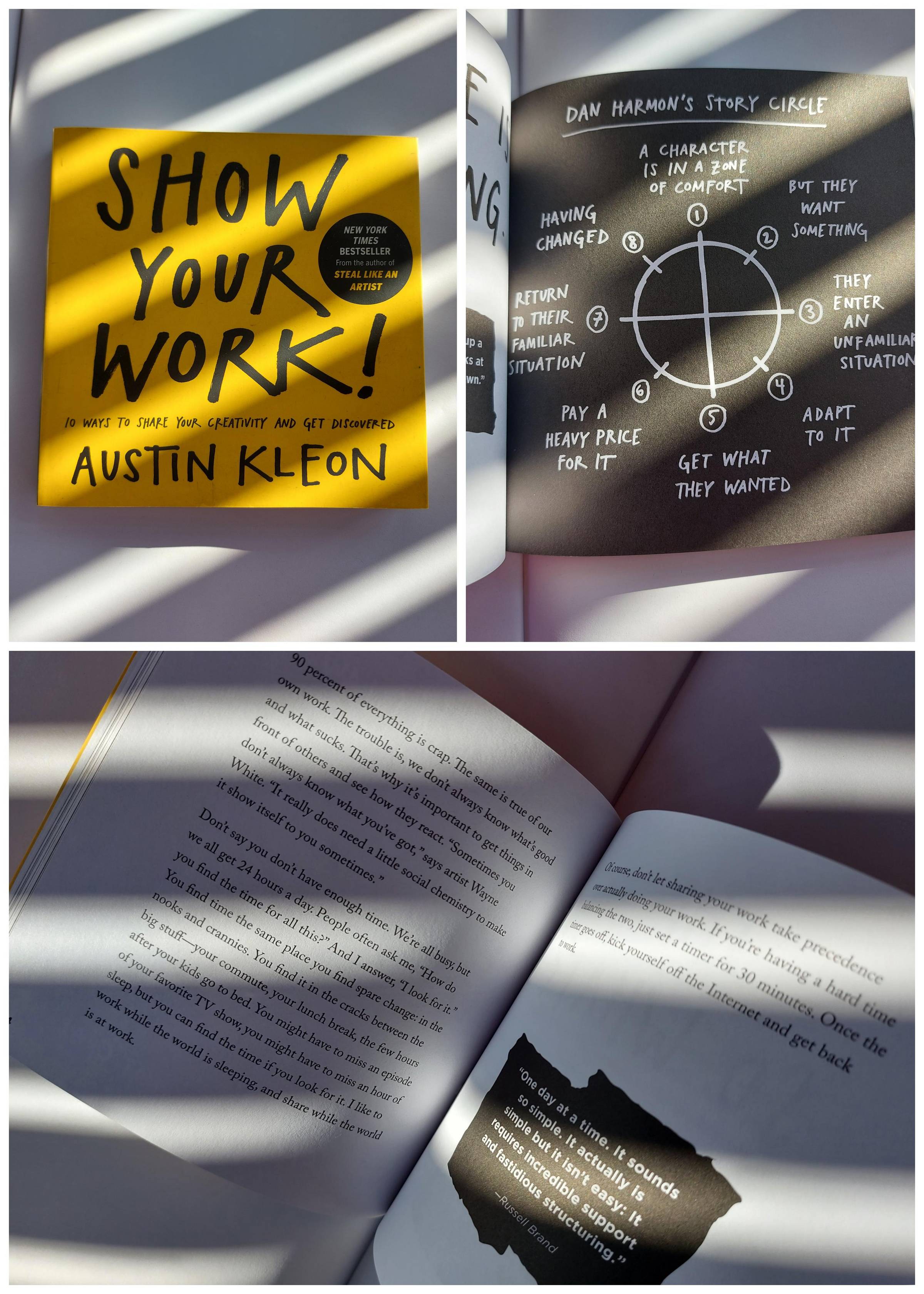 ---
Randomly Interesting Inspirations for Stories
The nearly-lost language in Nepal which has one fluent speaker left, and which also has the unusual characteristic of being without words for 'yes' or 'no'. There are concerted efforts to extend the learning of the language and not let it slip away.
Australian indigenous peoples used star maps to navigate long distances, and these could be reflected in the highway routes which carve out the landscape today. A fascinating one to join the past to the present, and to join sky to earth.
I mentioned in issue 4 of this newsletter that I'm a sucker for diamond news stories – thanks to my short story, 'The Diamond Taster', in my co-authored short story anthology, Falling into the Five Senses. Here's another – a folded diamond found inside a rare meteorite! *rubs hands in glee*
---
Thank you
Du fond du coeur, thanks for reading x
If you landed here by accident or design, and you'd like to find out more about my Ree-Writes newsletter, head this way.
You can also find me online on my Dodo Au Gogo blog | Twitter | Instagram.