Ree-flections
This issue of Ree-Writes #12 is extra late going out, because two days ago, I had a Christmassy crisis – which basically consisted of trying to decide whether both December editions should be Christmassy-themed, or just the one before Christmas. I eventually decided 5 minutes ago that only the edition before Christmas will be Christmassy.
So, although we're barrelling through December, enjoy this not-yet-festivey issue. I'm excited about several of the links I'm sharing and I hope you enjoy them too.
Hoping my words find you well in your world.
---
Writing & Creativity Cool Finds
This is a very interesting insight. This is a short, 3-minute video about the security guards who guard the artworks in galleries and museums, who are themselves artists .
I've previously shared a few links about Artificial Intelligent (AI) image generators, where you feed in word prompts and, drawing on online libraries of billions of images (often without permission), the AI bot generates images which fits your prompts. It's fast-moving technology and I'm curious about the creative possibilities of these generators, but ethically, things are very murky. Prompts can be generated in the style of living artists, whose training, hard work, skills, brands and livelihoods all become prey to copycats, and potential work devaluation. There is now a website which lets artists track if their photographs/art have been used to train the AI image generators.
And from AI image generators to Amazon.com's new story-creating bots. Children can now apparently co-create their bedtime stories with Alexa (Amazon.com's virtual assistant technology for the home). Alexa can even provide images, music and illustration to go with these stories. *Insert many squirmy feelings here about this development*
And lest these shares seem too bleak, have you heard about the bookshop specialising in the Amazon, that's actually in the Amazon? For once, this is nothing to do with the online retailing giant, but the real-life Amazon rainforest. A bookshop about the Amazon, in the real Amazon. This is a wonderful read!
---
Something I created
God of the Sea
Phin looks around him. Light is a sombre net now, the sky a soft, kind indigo, and the clouds a sleepy grey. The wind and the sea are singing to each other, their duet more noticeable at this time of day. The beach is deserted, as it usually is. People will be retreating from the darkness and gathering at the bright lights of their favourite watering holes inland, enjoying the cooler nights.
Something in the white sand away from the water catches his eye. Something small and dark is scrabbling. Phin moves towards it, his eyes widening as his lips shape a soundless 'oh'.
By the many gods of the island, it is a turtle! A baby turtle. It moves through the white sand with a slow, scrabbling, swimming movement, and with undaunted, single-minded purpose.
A few steps to the ocean's shore for Phin is many, many steps for the baby turtle. A human footstep in the dry sand makes a mere dent, but to a baby turtle, it is a valley and then a mountain – many valleys and many mountains – to be surmounted over and over before the ocean can be reached.
Impulsively, Phin drops to his hands and knees and, crawling backwards before the baby turtle, he begins smoothing its sandy path.
Part of him is glad that it is now past dusk. He would have a job explaining his actions to anyone! But another part of him feels as though he is bowing to the very God of the Sea, whose spirit is alive in its tiniest, most vulnerable new child before him. If he was asked to put it into words, Phin probably wouldn't be able to explain why he needs to make this gesture, to somehow obscurely explain his thanks, his gratefulness.
Read the rest of the story here .
Backstory: This is a treasured story which I wrote a long time ago. I still love the vibe of this one. I love the 140 character Twitter microfiction it was born out of, and I love how I expanded it.
---
A Book or Piece of Art I Love
Forgive the proud Mama moment, but this is a drawing by LittleOne. Aged four-and-five-months. This was an entirely unprompted drawing of Elsa in her castle (from Frozen, of course).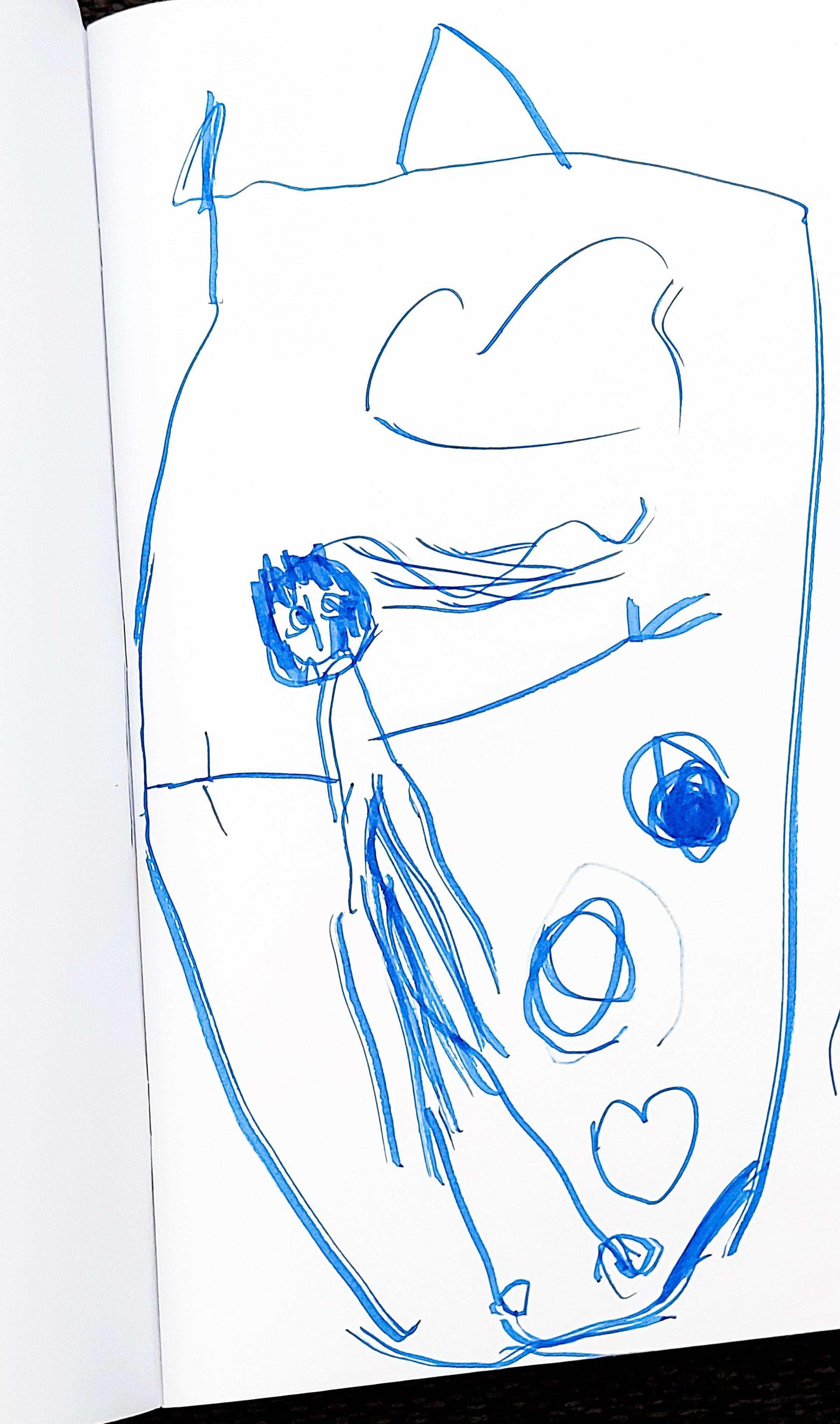 I love the detailed face, the hair flowing in the wind and the elegant lines that make up the dress. You will notice the love heart and star and ice crystal details. And for the piece de resistance, please note that Elsa is standing inside her ice palace, raising her arms and building it from within, just like she does in the famous "Let it go" song.
(By the way, I typed half of the previous paragraph with LittleOne sitting on my shoulders. Ouch.)
---
Randomly Interesting Inspirations for Stories
An absolutely fascinating read about the language of bees . So worth a read!
Can the five-day work week become a four-day week? Some companies are experimenting .
It's a good month to remember miracles can and do happen. Here's one of them – about a child lost in Kenya for 6 very long days and nights and how he was found safely. (Happy tissue warning!)
---
Thank you
Du fond du coeur, thanks for reading x
If you'd like to sign up to my Ree-Writes newsletter, head this way.
You can also find me online on my Dodo Au Gogo blog | Twitter | Instagram | Mastodon | my website .