Ree-flections
This issue is a week late. I hope you haven't been weeping forlornly into your inbox over its absence. But in case you were wondering, we've had a run of seasonal colds (LittleOne and me), plus work and extra deadlines (me), plus an overnight stay away from home for work (me, but affecting the whole family because it was my first night away since LittleOne arrived).
My  Snapshot Stories  project has also stalled in the past couple of weeks – see previous para: sickness and work etc. But also… Spinning in circles. Sometimes I have words but am struggling to get the images out of my head. Or, I have images but the words are hiding behind a dam somewhere. But I'm still tracking at around one story a week for the year, which is where I hope to stay.
Here's a photo montage of my past couple of weeks: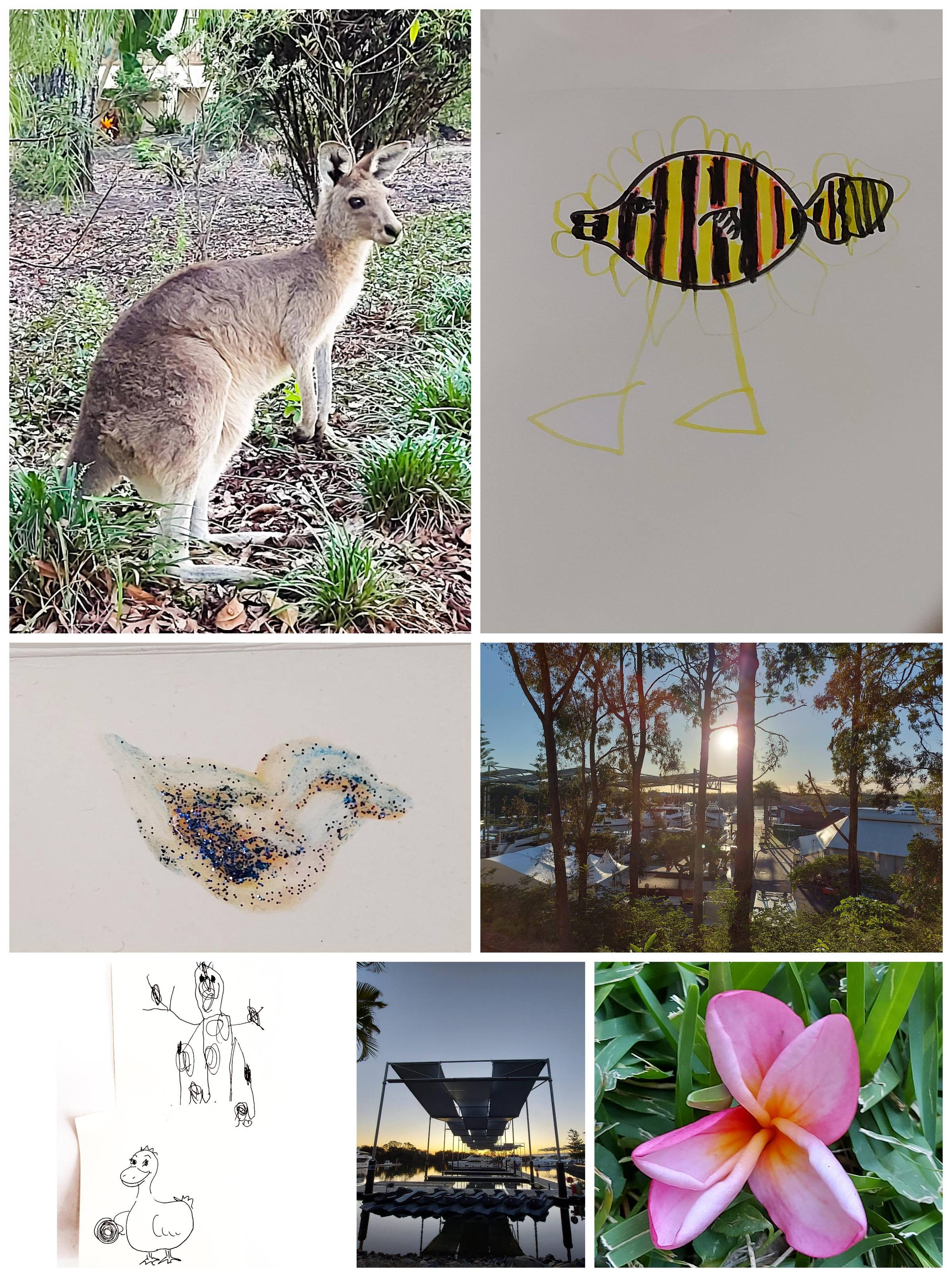 L – R clockwise, we have:
There were gorgeous kangaroos at the Overnight For Work place.
I drew a yellow and pink fish. LittleOne came along and carefully traced over the pink with black stripes, added legs and an aura of yellow petals to make a very groovy lil guy.
The early morning view from my balcony (yes, I had a balcony!) at the Overnight For Work Place.
The frangipanis are falling fast now, on the eve of the Brisbane winter. It's sad to say goodbye.
There was water at the Overnight For Work Place and there were yachts. Lots of them.
I got into trouble with LittleOne (for something I can't remember) so I drew a duck on a post-it note. Then LittleOne wanted to draw a duck too. And all was well with the world again.
I had to use up LittleOne's leftover paint and managed to get a blob to look like a beautiful sparkly bird. I really like it, so if you think it looks like a blob, don't tell me!
Here's the rest of the issue: I hope you enjoy, and I hope my words find you well in your world.
---
Writing & Creativity Cool Finds
Who would have thought  books and bats  could have had such a symbiotic relationship? Yes, I know I'm not using 'symbiotic' strictly accurately, but I did it deliberately because I think it fits. And maybe I also did it to drive you batty 😉
On being  introverts and creatives . Here's a look at how some creatives manage their introversion – or maybe it's a look at how some introverts manage their creativity.
Picasso apparently originally painted  a small dog  into his Le Moulin de la Galette. And then he painted it out. Creative decisions! The link shows the painting with and without the dog, and I can't decide which version I prefer. What do you think?
As a counter to the expectations of fast and frenetic consumption all around us (think: 'fast food', 'fast shopping' and 'binge watching'), the Slow movement has sparked many derivations including slow food and slow TV shows. There is now also  slow reading  in Kyoto, Japan.
---
Something I created
The Jeweller
The jeweller in the sky wraps himself in his favourite coat of darkest indigo silk.
He is preparing to scatter his gems across the night, just like he does every time the sun retreats.
With infinite patience and care, he rolls great handfuls of stones to shine free between the stars.
Then he pauses. And hold some gems in his palms.
He considers them closely. They are the colour of life and secrets and they whisper answers to unknown mysteries.
Without warning – casually, carelessly, cruelly – the Jeweller threads these gems into opulent dreams and discards them to the earth below.
He could watch where they fall and how they colour the dreams they land in. Sometimes he does.
But not tonight.
Backstory: Backstory: I wrote the original of this on Twitter back in 2016(!) I expanded it a tiny bit when I posted it as my  Snapshot Story #18 . More on the creative process in the link.
---
I Love!
Driving Around by artist and illustrator Francisco Fonseca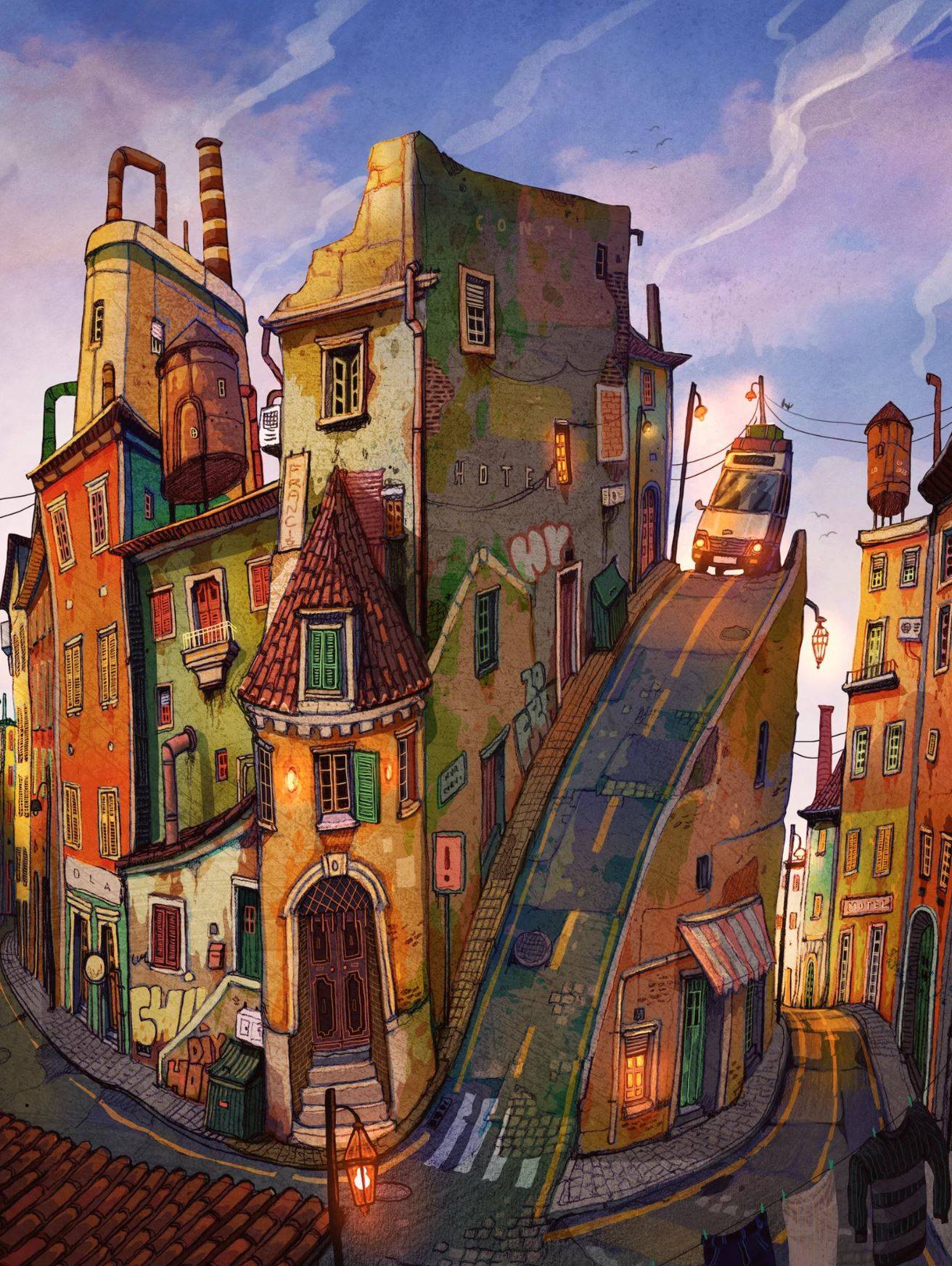 Francisco Fonseca 's illustrations are quirky, cool, and with romantic and surreal vibes. But the more you look, the more you also notice the touches of crumbling roads and facades, quirkily-painted industrial smokestacks and graffiti on the buildings – all dashes of… edginess? the present? anomie? His illustrations are love letters filled with thousands of possibilities and stories.
---
Random, Interesting, Inspirational
In  Ree-Writes #12: Barrelling , I shared a  link  to the Sheldrick Wildlife Trust in Kenya. The SWT's main remit is rescuing orphan elephants and helping them reintegrate into wild-living life, but in that link, one of their pilots helped find a 4-year-old lost for six days in the wilderness. Here's a  SWT link  of another harrowing human rescue – of a driver stranded on his truck in rushing floodwaters for six hours. Here's  another angle  of the rescue from the helicopter cam. This is breath-holding scary stuff.
Way back in  Ree-Writes #3: Frequencies , I shared a link about the town in India famous for its devilishly-difficult locks. Imagine my reaction to reading about the  LockPicking Lawyer  – who knew that lockpicking was a kind of sport? – and wondering if the worlds in the two links have ever collided.
So it turns out that  bees can dance and have opinions about art . In case it needed saying again: bees are awesome.
---
Thank you
Du fond du coeur, thanks for reading x
Sign up for your own copy of Ree-Writes  here .
You can also find me online on my  Dodo Au Gogo blog  |  Twitter  |  Instagram  |  Mastodon  |  my website .